Cooperation with Galbiati Group
Terolling Polska Sp. z o.o. Sp. k. is the official representative of the Galbiati Group in Poland, Ukraine, Hungary, Romania, the Czech Republic and Slovakia.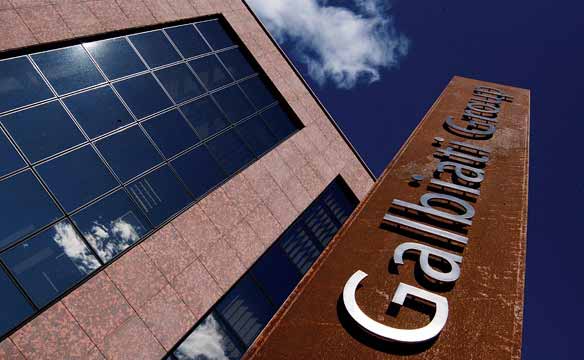 Galbiati Group is an Italian company that has received international recognition for the quality of machining and machine building technology. The company specializes in the processing of large elements, it allows the Galbiati Group to operate successfully since 1962 in all sectors requiring the production of large-scale components with high precision. Modern machine tools allow the company's performance on CNC machines: boring, drilling and milling elements up to a weight of 120 tons. The company has an assembly hall with a hole measuring 10 x 15 x 4 m for machine assembly and a spray booth with dimensions of 11 x 6 x 5 m, 4,000 m2 total assembly area with lifting devices lifting capacity of up to 250 tons. Galbiati Group is a company awarded many times as the best supplier and subcontractor of companies such as: Hatebur and Primetals Technologies (Siemens Vai). Through constant investments in research and development, as well as modernization and optimization of production processes and devices, the company can guarantee high quality of its products, they enjoy international recognition. Managing the production process flow is the basis to guarantee the maximum product quality during its critical phases, in particular:
Control of the delivery of semi-finished products
Control during processing
Final inspection of all manufactured products
Dimension control
The main industrial sectors served by the Group include metallurgy, mining, astronomy, machinery and energy. Galbiati Group does not have a "typical" product catalogue, in return it has thousands of completed projects, elements, parts and machines for customers around the world. The company offers cooperation with five divisions:
1. DESIGN AND CONSTRUCTION OF MECHANICAL DEVICES
2. GEARS
3. MECHANICAL MACHINING AND ENGINEERING SERVICES
4. SPINDLE BORES FOR DEEP HOLES
DESIGN AND CONSTRUCTION OF MECHANICAL DEVICES

The Galbiati Group produces large, high-precision metal machining machines. They are made as ordered according to the client's design or are entirely designed in Galbiati pursuant to client's technical requirements. Examples of mechanical structures:
Rolling stands ("finish rolling" station; narrowings for rolling stands, AG cylinders and accessories; a hot rolling mill for aluminium; pre-assembly, piping and supervision)
Tunnel boring machines ("TBM")
Hydraulic mechanical presses (hydraulic-mechanical high tonnage presses)
Antennas and radio telescopes (mechanical components for satellite dishes and radio telescopes)
Shears for thin steel sheets (mechanical pendulum shear, pendulum shear for continuous cutting of thin steel sheets; gears for driving mechanical shears)


GEARS

The Galbiati Group has extensive experience in the design, production and modernization of mechanical transmissions:
Steel industry (hot and cold rolling mills)
Drives for large rolling stands with vertical motors, main drives for shears, tilting converters, planetary drives, for rubber and plastic mixers, for the cement industry, mills, winches for the rope transport industry
Pinion stands and dual drives for rolling mills
Coilers and decoilers
Turbine and pump gearboxes for hydroelectric power stations
Gears and segments
Girth gears for cement mills and kilns, for port cranes and ship winches
Ring gears and pinions for TBM heads
All Galbiati Group gearboxes are tested "at full speed - no load" for a minimum of six hours.
MECHANICAL MACHINING AND ENGINEERING SERVICES

The Machining Department in the Galbiati Group is highly qualified to design, manufacture and process medium and large-size components that require high quality standards. Galbiati can provide both simple and complex mechanical assembly and remanufacturing services.
HIGH-PRECISION MECHANICAL MACHINING IN SET ROW TOLERANCES (BORING, MILLING AND TURNING)
MECHANICAL CONSTRUCTIONS, MACHINES AND DEVICES
DIMENSIONAL INSPECTIONS AND NON-DESTRUCTIVE TESTS
REGENERATION OF MACHINES AND DEVICES
DEEP HOLE SPINDLE DRILLING MACHINE

Horizontal multi-spindle deep hole drilling machines are used to bore holes in thick plate heat exchangers for the petrochemical, energy, and nuclear industries. Galbiati Group builds machines for deep boring in sheet metal shell and tube heat exchangers (according to ASME, TEMA and PED codes). The products are used in the chemical, petrochemical, and nuclear industries. Models equipped with 1 to 5 spindles, with BTA (STS) and barrel boring systems.
You are encouraged to learn the full offer of Galbiati Group on the website www.galbiatigroup.it

Contact in English, Polish, Ukrainian.
This email address is being protected from spambots. You need JavaScript enabled to view it., tel.: +48 602 480 357